Sports Decals & Stickers

Personalized decals for your car or truck window. High quality weather-resistant vinyl decals and vinyl graphics. Decals are just right for any application you can think of and each has a high quality printing effect and/or design. Decals are ready to apply to any smooth surface and will not fade or smudge.


Customer Ratings and Reviews
5.0 ★ ★ ★ ★ ★ Out of 215 Ratings/Reviews for this Category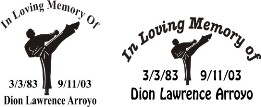 William Shelley 5.0 ★ ★ ★ ★ ★ many thanks! This is going to look great! Of the two, I like the one on the right as it seems to wrap more. So, I'm thinking like this-ish:
Sophia 5.0 ★ ★ ★ ★ ★ Now I know how to make your order site work, but I want to make sure that I input the proper information so that I receive the proper facing on it, and not to cause you any problems.
William Landis 5.0 ★ ★ ★ ★ ★ Very fast service. Product looks great. Easy to install.
Evelyn 5.0 ★ ★ ★ ★ ★ I got a simple hockey player design (line art) - one in gold and one in silver. I put the gold one on my 4Runner since I have bronze rims, and I put the silver one on hubby's silver 4Runner. Both look WICKED! Shipping was fast and the decals look awesome!
Emma 5.0 ★ ★ ★ ★ ★ Dashboard easy to navigate. Would prefer more fonts. Turnaround very efficient.
Gloria 5.0 ★ ★ ★ ★ ★ I've never had a problem with products, prices, or shipping. It would be great if others were as reliable as Decal is.