Wings Decals & Stickers

All decals are made of high quality weather-resistant vinyl, solid color of your choice and made to go on your car, truck, SUV, motorcycle, minivan, RV, boat, kayak, snowmobile, scooter, skateboard, home or office windows, helmets, plastic, wood, or any other smooth, non-porous, wax free surface. Easy to Apply! Easy Installation Instructions Included!


Customer Ratings and Reviews
4.9 ★ ★ ★ ★ ★ Out of 321 Ratings/Reviews for this Category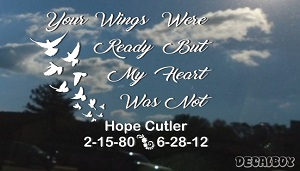 Austin 5.0 ★ ★ ★ ★ ★ After receiving my decal I have decided to order more for gifts of my friends who has lost a child. Am thankful to have found decalboy. Thank you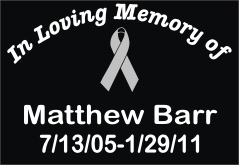 Jack 5.0 ★ ★ ★ ★ ★ I was wondering how to save that decal if I want to order more in the future? Some other families member would like to order the same decal. I would really appreciate it, as this decal means a lot to me. P.s. Awesome site- I love how you can customize and create your own decals. I will definately be using this site in the future. :)
Victoria 5.0 ★ ★ ★ ★ ★ Comment: The decals are amazing, they will honor my dad the way I have wanted, thank you so much.
Michelle 5.0 ★ ★ ★ ★ ★ Quality decals and fast service
Lauren 5.0 ★ ★ ★ ★ ★ This is my go to for decals!!!
Karen 5.0 ★ ★ ★ ★ ★ My third purchase from them. They are fast in their delivery and professional.