Sport Team Logos Decals & Stickers

Explore our Logo Templates or Upload Your Design. Create your unique logo for free. No designing skills required. Easy to use online Editor. Browse our logo templates and customize it with free artwork, icons and fonts. Get free proofs. Download your Logo design in a High-Quality Vector File format. Turn your logo into a Decal. Vinyl decals have an adhesive backing so your can stick your logo anywhere. Same day pickup and rush orders available.


Customer Ratings and Reviews
4.8 ★ ★ ★ ★ ☆ Out of 8 Ratings/Reviews for this Category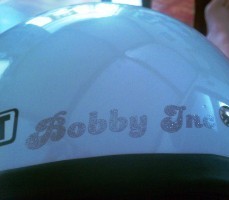 Bruce 5.0 ★ ★ ★ ★ ★ It came with complete instructions how to apply. Look forward to future business.
Judy 5.0 ★ ★ ★ ★ ★ The decal is complex, yet by following the insructions, it is beautiful and without flaws.
Judith 5.0 ★ ★ ★ ★ ★ Fast service, excellent quality.
Brittany 5.0 ★ ★ ★ ★ ★ I needed a football helmet decal for a costume that was recreating the cast of Fast Times at Ridgemount High. I looked all over the internet and the cost for small order like that was minimum 5 times the cost of Decalboy. It was simple, inexpensive and I received it in a short time, complete with mail tracking. I would definitively recommend Decalboy and will use them again!