Hunting Decals & Stickers

Decals are available in any length and width. All Decals are die-cut. Your decal will not have any background. Check the color chart for vinyl. Made out of Self-adhesive, solid colored vinyl. Decals can be easily applied to both windshields and any smooth surface such as the body of car. Decal is pre-masked and ready to apply. Easy, detailed installation instructions included.


Customer Ratings and Reviews
4.9 ★ ★ ★ ★ ★ Out of 79 Ratings/Reviews for this Category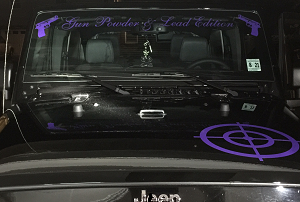 Scott 5.0 ★ ★ ★ ★ ★ Other decals came out great! They are on and look awesome. I flipped the guns..... picture attached
radu 5.0 ★ ★ ★ ★ ★ The decals are amazing and the time-frame you guys got this done is really impressive!
Henry Kasprzak 5.0 ★ ★ ★ ★ ★ I just received my elephant window decal. Thank you for the quick ship and excellent work.
James 5.0 ★ ★ ★ ★ ★ These are awesome!
Douglas 5.0 ★ ★ ★ ★ ★ Easy use. Great quality product. Will definitely use for future projects.
Daniel 5.0 ★ ★ ★ ★ ★ I've used decalboy.com over the past few years for my hobby of decal'ling my car. I will continue to use this company because of service and satisfaction. I especially like the option of do-it-yourself designing of decals I've chosen. I highly recommend decalboy to anyone.