Feather Decals & Stickers

All of these decal templates are customizable! Change text, images, colors, and fonts on your In Loving Memory Decal with your loved one`s name and dates. Memorial Decals with Praying Hands & Cross, Flowers & Hearts. Breast Cancer Pink Ribbon, Forever In Our Hearts Decals, Military and Air Force decals. We are constantly adding new decal and sticker designs to our site. All decals are premium quality, long-lasting, and proven to be resistant to harsh weather and cleaning products. Memorial Decals are a great way to remember someone special.



Customer Ratings and Reviews
4.9 ★ ★ ★ ★ ★ Out of 163 Ratings/Reviews for this Category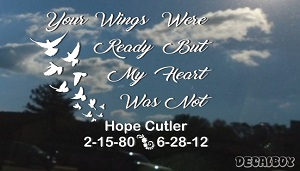 Austin 5.0 ★ ★ ★ ★ ★ After receiving my decal I have decided to order more for gifts of my friends who has lost a child. Am thankful to have found decalboy. Thank you
Victoria 5.0 ★ ★ ★ ★ ★ Comment: The decals are amazing, they will honor my dad the way I have wanted, thank you so much.
Barbara 5.0 ★ ★ ★ ★ ★ Was looking for a Indian feather with a flag on the feather looked up on google and in less 10 minutes I found what I wanted ordered it and I'm about 5 days the decal arrived at our home
Julie 5.0 ★ ★ ★ ★ ★ One of the best places I've ever had the pleasure doing business with. Fast response to questions and they make sure your happy with what ever it is you ordered before filling the order. Will definitely be using them for all my decal and lettering needs. Oh and did I mention fast shipping?👍👍
Douglas 5.0 ★ ★ ★ ★ ★ Perfection. 2nd time buying. 2nd time happy.
Abigail 5.0 ★ ★ ★ ★ ★ Great service, fast shipping. Will order from decalboy again.