Helmet Flames Decals & Stickers

Personalized decals for your car or truck window. High quality weather-resistant vinyl decals and vinyl graphics. Decals are just right for any application you can think of and each has a high quality printing effect and/or design. Decals are ready to apply to any smooth surface and will not fade or smudge.



Customer Ratings and Reviews
4.8 ★ ★ ★ ★ ☆ Out of 42 Ratings/Reviews for this Category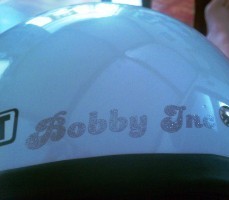 Bruce 5.0 ★ ★ ★ ★ ★ It came with complete instructions how to apply. Look forward to future business.
Judith 5.0 ★ ★ ★ ★ ★ Fast service, excellent quality.
Russell 5.0 ★ ★ ★ ★ ★ Came in a timely manner! Just as I expected
Brittany 5.0 ★ ★ ★ ★ ★ I needed a football helmet decal for a costume that was recreating the cast of Fast Times at Ridgemount High. I looked all over the internet and the cost for small order like that was minimum 5 times the cost of Decalboy. It was simple, inexpensive and I received it in a short time, complete with mail tracking. I would definitively recommend Decalboy and will use them again!
Andrew 5.0 ★ ★ ★ ★ ★ Excellent quality decal and prompt service
Danielle 5.0 ★ ★ ★ ★ ★ This was my third attempt to get a logo printed. Decalboy.com got it right the first time. They did exactly what I wanted and fast, not to mention the great price. I would definitely recommend decalboy.com to anyone.