Dogs Decals & Stickers

Decals are available in any length and width. All Decals are die-cut. Your decal will not have any background. Check the color chart for vinyl. Made out of Self-adhesive, solid colored vinyl. Decals can be easily applied to both windshields and any smooth surface such as the body of car. Decal is pre-masked and ready to apply. Easy, detailed installation instructions included.



Customer Ratings and Reviews
5.0 ★ ★ ★ ★ ★ Out of 356 Ratings/Reviews for this Category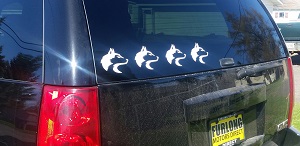 Louis 5.0 ★ ★ ★ ★ ★ These are awesome! Second time I've purchased from you. Always a quality product! Thank you
Frances 5.0 ★ ★ ★ ★ ★ I am so pleased with my stickers, they are great! Excellent quality product, great price, stellar staff. Definitely will order from here again.
Ivan Rojas colazo 5.0 ★ ★ ★ ★ ★ The decal looks sick, the transfer tape then used left no residue on decal!!! And my truck is way more better looking. Thanks.
Matthew Meyer 5.0 ★ ★ ★ ★ ★ Fast service. No problem s. Excellent outcome. We are very pleased and appreciative. Thank you.
Ryan 5.0 ★ ★ ★ ★ ★ My package got lost in shipment. And I contacted decalboy customer service and they had me another sent out quickly. Great products and customer service.
Steven 5.0 ★ ★ ★ ★ ★ Awesome!