Personalized License Frames

Make your own custom license plate frames with a quick turnaround. This personalized license frame can make a great gift for any occasion. High Quality Heavy Duty Chrome Billet finish face frame with vinyl lettering.


Customer Ratings and Reviews
4.9 ★ ★ ★ ★ ★ Out of 246 Ratings/Reviews for this Category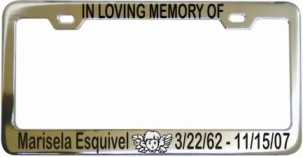 Donna 5.0 ★ ★ ★ ★ ★ The license plate frame that you sent us was received very well by the grieving family. Another family member liked it so much that they asked me if I could get another one. Would it be possible for you to make another license plate exactly like the first. Thank You for your help,
Dylan 5.0 ★ ★ ★ ★ ★ Excellent job printing my license plate frame and decals. They look great. This is the only site I could find with clipart of trains. Thank you for the large selection and great service.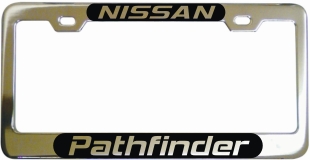 Benjamin 5.0 ★ ★ ★ ★ ★ Thank you Sirs! for the Nissan Pathfinder Licence Plate, it is very beautiful and from a high quality material!
Heather 5.0 ★ ★ ★ ★ ★ Made a custom license plate frame for my 87 Firebird and it came out fantastic. Nice metal frame and the decals on it are perfect. The colors also matched 100% to the colors I chose on the website. I could not be more pleased with my purchase I am definitely using this company for any other decals or plate frames I need in the future! Also shipping was extremely fast even with everything going on right now.
Esther Bergling 5.0 ★ ★ ★ ★ ★ Thx! License plate frame turned out as ordered. Lovely. Great, quick turnaround time